Dear Guest of Singing Revolution: The Musical
---
Welcome to the Estonian American National Council website where you can find more information about Estonia and stay up to date with Estonia-related events. We hope you enjoy the program! 
The Estonian American National Council is a proud supporter of Singing Revolution: The Musical, and we wish you a long run!
In line with our mission, the Council is excited for each person, each new supporter of the arts, each inquisitive child and world-traveled adult, to learn about the small but mighty Republic of Estonia, and we commend Tony Spinosa and James Bearhardt for bringing their creative vision inspired by the Estonian story/history to the stage in such complicated times. If one were to select a lesson to learn from the Estonian people, it is to stay focused, calm and determined when fighting for what you believe in. Every voice matters.  
We congratulate Tony, James, the cast, crew, and the SR behind-the-scenes team from start to finish on the premiere of your long fought-for production.  
In Estonian, instead of wishing performers the superstitious "Break a leg!" before going on stage, we send them off with Okas kurku! Pind päkka! (In English: A thorn for your throat, a sliver for your foot!) to singers and dancers, respectively.
Thank you ALL for sharing your talents and acquainting the American theater public with our beloved land and people of Estonia, a land of white nights in summer and long, peaceful winters – a land of freedom, culture, and song!
Tere tulemast Eestisse! (Estonia welcomes you!)
From all of us at the Estonian American National Council, Inc.
Singing Revolution is a new musical with a crowd-pleasing Europop score. It tells the tale of star-crossed lovers against the beautiful, moving, and timeless true story of Estonia's 1987 song-filled, peaceful uprising, known the world over as the "Singing Revolution" against the Soviet Union, which eventually restored the Republic of Estonia's independence in 1991.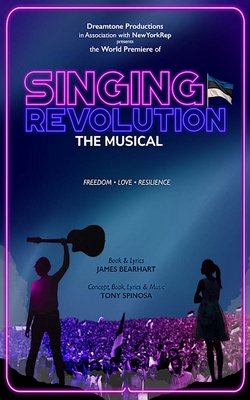 About Estonia
Estonian history extends across a long and winding road through time, telling the tales of many nations from Vikings to the kings, queens, and medieval merchants of German, Swedish, Danish and Russian descent. Estonia's deeply rooted pagan spirit and European mindset mean that the country and its people bear close ties with nature while being a proudly independent European Union and NATO member with a growing reputation for innovation. The Republic of Estonia has been an independent country since 1918, abruptly interrupted by the half-a-century-long Soviet occupation following World War II. Estonia restored its independence in 1991, through a movement known as the Singing Revolution, that was inspired by the more than a century-old song festival tradition.
Today's Estonia is thriving and forward-looking... where you can vote online and start your own business in less than half an hour. Many have done so already, including the founders of Skype and Wise.
Source: www.visitestonia.ee
Inspired by Singing Revolution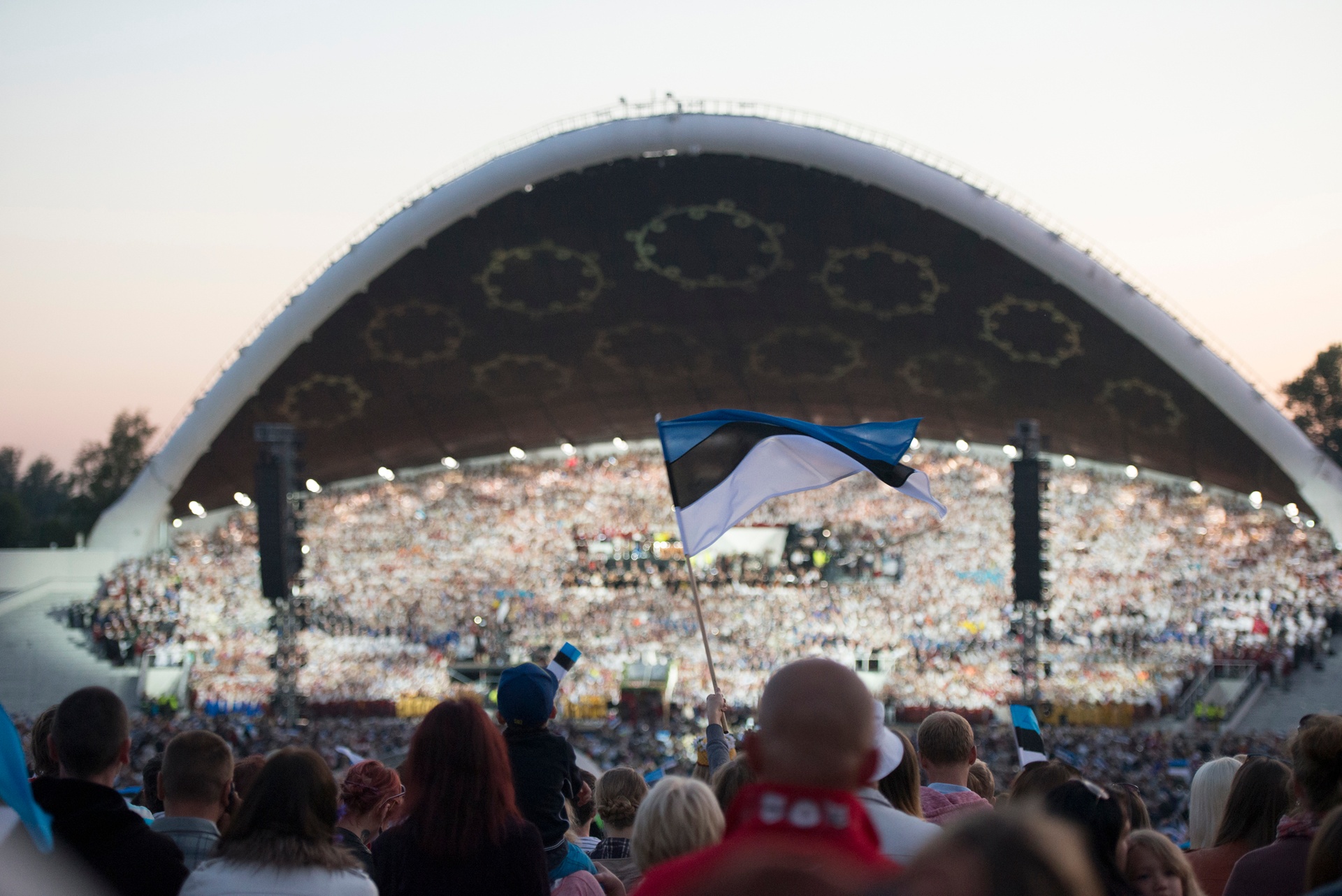 History of the Estonian Singing Revolution
Activism through the power of song in three Baltic states of Estonia, Latvia, and Lithuania.
The important role of popular music in the protest movement that started in Estonia in the late 1980s and ultimately led to the restoration of independence was revealed already at the very beginning of the movement. A mass protest campaign was launched against the planned environmentally hazardous mining of phosphate in Estonia in spring 1987. Young composer Alo Mattiisen (1961-1996) and poet Jüri Leesment (1961) created a song No Land Is Alone, emphasising the bond between all Estonians and their solidarity with the inhabitants of Virumaa (eastern Estonia) – the area for the planned mines. Different verses of the song were sung by about a dozen of the most loved pop stars of the ESSR of the time and it rapidly became extremely popular.
The real Singing Revolution started in 1988, when performing patriotic songs at mass events became usual… A core repertoire consisting of about 20 most favoured and loved songs was formed, sung by singers at concerts and by people at their homes. This repertoire included songs from the period of national awakening in the late 19th century; among them was the national anthem of the Estonian Republic, My Native Land, My Joy, Delight. Public singing of this song could only a couple of years earlier have been punished as 'hooliganism.'
In addition to these, there were contemporary pop songs in different genres (rock, folk, etc.). A song cycle Five Patriotic Songs, created by Mattiisen and Leesment and partially based on hundred-year-old patriotic choral songs, became especially popular. Modernised lyrics of the songs stressed the importance of people's feelings of togetherness and adherence to traditions, and drew attention to topical problems, such as the indifference of the authorities and increasing migration.
Pop singers performed these songs at different music festivals as well as at political events, and very often tens of thousands-strong audiences sung along with them. One of the most remarkable events of such a nature was Estonian Song, organised at the Tallinn Song Festival Grounds in September 1988 by the Popular Front, and filling the Festival Grounds with an audience of at least 100,000 people. Songs were also sung at the Baltic Way (the human chain of nearly two million people, which united the three Baltic countries from Tallinn to Vilnius) in August 1989 and at other patriotic mass events.
The Singing Revolution played an extremely important role in the regaining of Estonia's independence, expressing the sentiment and attitude of the people and thus influencing both the local and the Kremlin authorities. The term 'singing revolution' is also used to generalise the important role of patriotic songs in the similar processes of regaining of independence in Latvia and Lithuania during the same time period. – Source: estonica.org
Learn More About Estonia & The Power of Song