May 2, 2022
–
May 6, 2022
EDT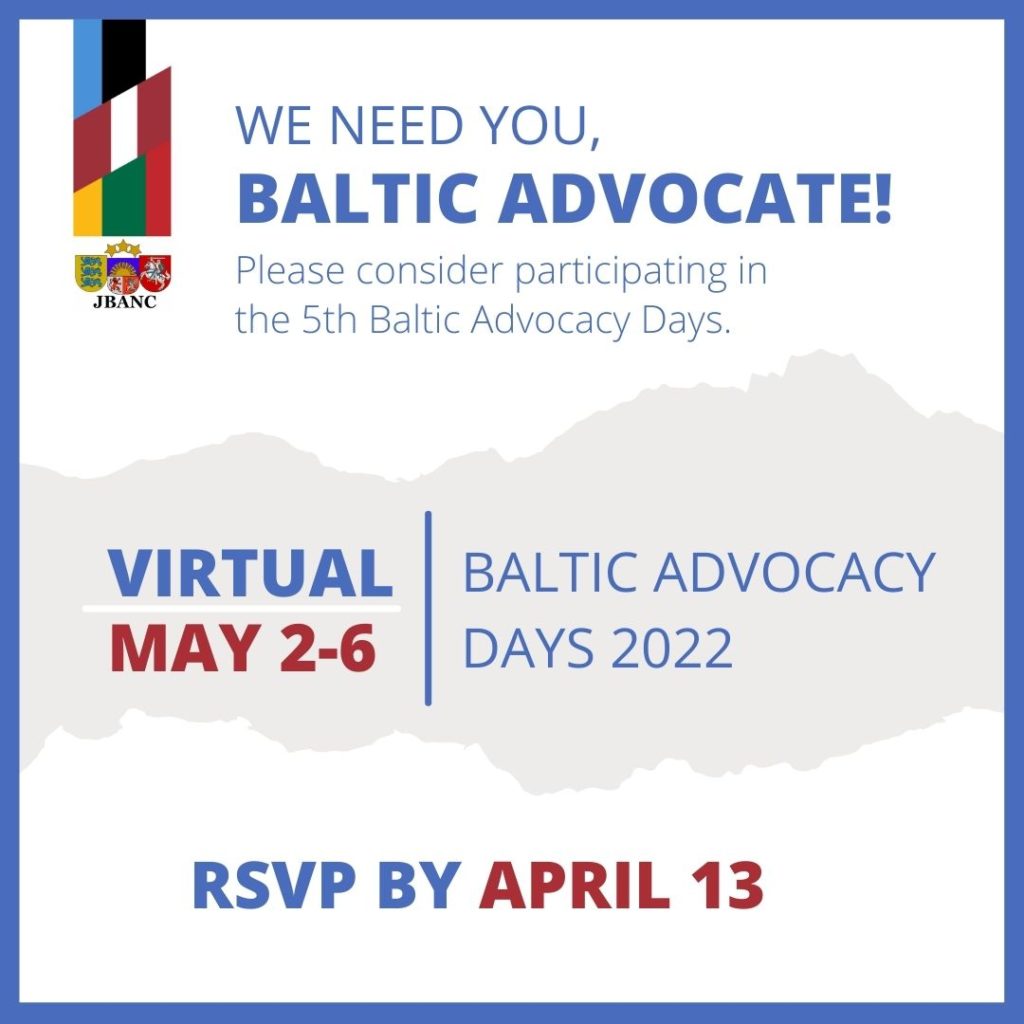 This event organized by JBANC is a timely opportunity for Baltic Americans and their friends to come together and engage with Congress about the security and economic issues impacting the United States' relationship with the Baltic states. As a constituent, you have enormous power to shine a light on these very important issues in today's reality of a horrific and unjustified war that the Russian Federation is waging against the Ukrainian people. All this happening threateningly close to the Baltics.
For the second year in a row, Baltic Advocacy Days will be held virtually, spanning the week of May 2-6, 2022. All meetings will be scheduled during regular business hours (EST time).
Due to the uncertainties that the Covid-19 pandemic has introduced to our social lives, we have chosen to take this approach, which also opens up participation to anyone with a smart device and stable internet connection from around the country. With Congress slowly opening back up, there might be some opportunities to also organize in-person meetings if possible. As of this time, we don't know the timetable for a reopening.
No prior experience is needed to participate as a Baltic advocate.
JBANC will issue a one-pager and brief you on the priorities that we plan to raise. We will also provide a voluntary training opportunity for everyone involved, as well as assign you with a team of other constituents and/or JBANC team members. All these activities will serve as support mechanisms in your preparation process. If you are interested in leading a group or reaching out to any of the offices, we could also provide you with useful information about this process. If not, you are welcome to play a background role during these meetings, which is just as important. Strength in numbers can be an advantage!
By filling out the registration form we assume you are making a commitment to participate in at least one meeting with a Congressional office as a constituent. Each meeting typically lasts around 15-30 minutes.
While we understand that schedules might change, it's important that you make every effort to participate once you have made this commitment. The virtual format gives us all a little wiggle room when scheduling these meetings.
Joint Baltic American National Committee (JBANC)
jbanc@jbanc.org